Friday Talks: Televisual Sports Videogames (Abe Stein!)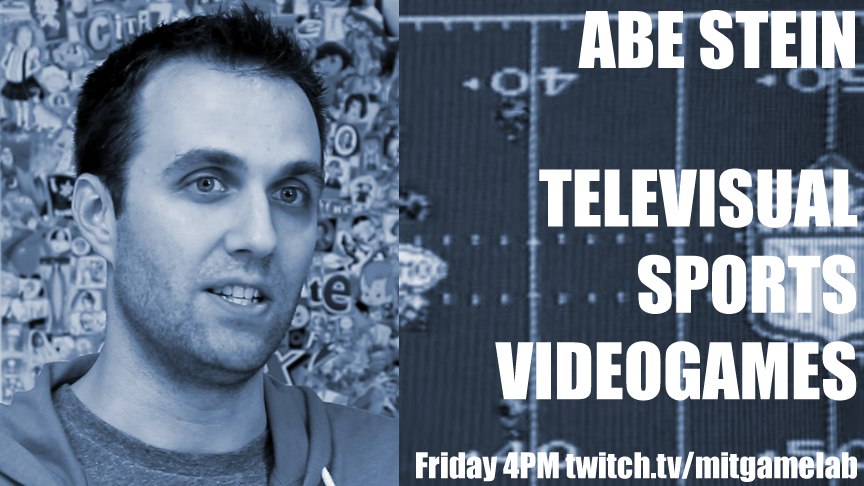 Instead of Friday Games this week, we're going to lend our support (and remote scrutiny) to Abe Stein, dauntless audio director, blogger, and grad student at the MIT Game Lab! On April 5th, he will give a short presentation on his thesis work on Televisual Sports Videogames.
Many sports videogames are designed as interactive simulations of televised sports. Taking a comparative and historical approach, this thesis explores the relationship between these "televisual" sports videogames and the broadcasts they recreate, situating the two media forms in the context of a complicated North American sports media industrial complex. The project examines how dominant ideologies of hegemonic sports culture in North America are reinforced by features found in both television broadcasts and sports videogames.
You can catch Abe's talk at 3:55pm on Twitch. The full dozen of senior grad students will be presenting their work all day Friday Apr 5th, 2013 at the MIT Student Center (W20) Mezzanine Lounge, and you're welcome to join us in person! The talks start at 9am and details can be found here. Here's a list of topics to whet your appetite:
Chris Peterson – User Generated Censorship: How Actor-Networks Influence Attention With Social Media
Amar Boghani – The City Expressed: Everyday Media Production and the Urban Environment
Sun Huan – The Hidden Activism: Media Practices and Media Opportunity Structure in Chinese Politics of Resistance
Sonny Sidhu – Poetics of the Videogame Setpiece
Ayse Gursoy – Game Worlds: A Study of Video Game Criticism
Jia Zhang – Information Visualization as Creative Nonfiction
Molly Sauter – Distributed Denial of Service Actions and the Challenge of Civil Disobedience on the Internet
Rogelio Lopez – Resistance, Popular Communication, and Politics of Inclusion through Media Practice in Contemporary Immigrants' Rights Movements
Steve Schirra – Designing Large-Scale Game Systems for Community Engagement
Elyse Graham – The Remaking of English Literature
Katie Edgerton – Byte-Sized TV: Writing the Web Series
Abe Stein – Televisual Sports Videogames