Friday Games: Starcraft 2 Heart of the Swarm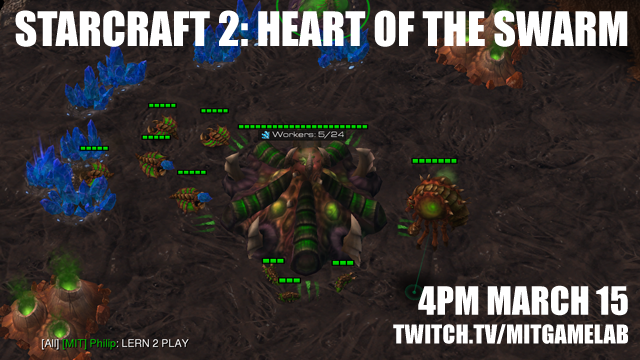 StarCraft II just had its first expansion pack (remember those?) featuring new units and a new campaign, plus a good number of community features that both reflect the state of eSports and hearken back to the Battle.net of the '90s. The online multiplayer mode of the game can be fiercely competitive, so we thought it might be fun to invite some of the seasoned players in the lab not to play, but instead to coach new players who may be interested in having a shot at this latest iteration of the franchise. We'll also look at how Blizzard has redesigned the experience of transitioning from single-player to multiplayer with new training and AI modes.
As usual, we'll start at 4pm in MIT room 26-153. Join us in person or on Twitch!