Push Button: Translating the Arcade for the Home
January 7, 2014 @ 1:00 pm

-

5:00 pm

Nick Montfort, Director of MIT Trope Tank, will lecture on what happens when games originally designed for the arcade are ported to home consoles. This follows on his work in platform studies, which looks at the base hardware and software systems that are the foundation of computational expression and examines how the these elements intersect with the creative production of new media.
Afterwards, MIT Game Lab staff will lead a workshop on the design of games outside of established game genres and tropes. Participants will concept arcade games about things you might not expect an arcade game to be about!
Part of the Push Button: Examining the Culture, Platforms, and Design of the Arcade lecture series.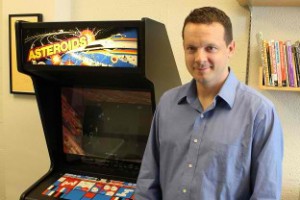 Nick Montfort develops literary generators and other computational art and poetry. He has participated in dozens of literary and academic collaborations. He is associate professor of digital media at MIT and faculty advisor for the Electronic Literature Organization, whose The Electronic Literature Collection Volume 1 he co-edited. Montfort wrote the book of poems Riddle & Bind and co-wrote 2002. The MIT Press has published four of Montfort's collaborative and individually-authored books: The New Media Reader, Twisty Little Passages, Racing the Beam, and most recently 10 PRINT CHR$(205.5+RND(1)); : GOTO 10, a collaboration with nine other authors that Montfort organized.
Related Events