Global Game Jam 2013 at MIT in Cambridge, MA
January 25, 2013

-

January 27, 2013

$10 – $15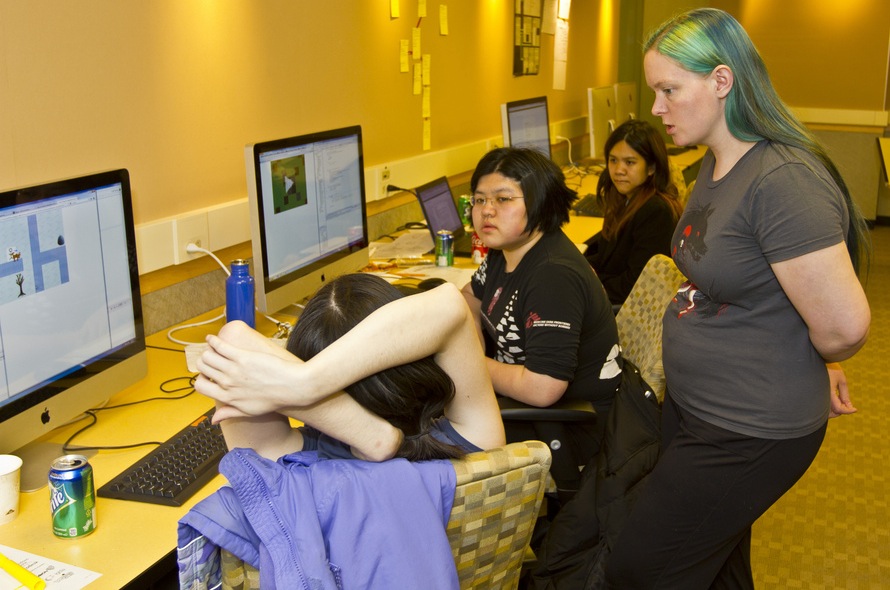 The MIT Game Lab is hosting the Global Game Jam for 2013 at our new location in Building 26. We are partnering with our friends the Learning Games Network and Education Arcade at our location to make games and game prototypes for entertainment, learning, and social change.
What is the Global Game Jam?
Global Game Jam is the premier annual game creation event that fosters the development of innovative game concepts and promotes international collaboration and teamwork. GGJ brings together thousands of game development enthusiasts participating through many local jams around the world on a single weekend. GGJ has proven itself to be an incubator for creative experiments and new start-ups. Some of the successes have included games being published and exciting collaboration opportunities for participants.
THIS IS OUR FIFTH YEAR!
Check out this trailer we made for last year's Global Game Jam to get an idea about how fun this event is!

FAQs
What's so special about this location?
When is the Global Game Jam held?
Food
Restrictions
What to bring?
I've never made a game before!
What kind of skills should I bring?
So what's this about games for learning and games for change?
Partner Hosts
What's so special about this location?
At MIT, we will be hosting 2 optional additional jam constraints. Participants will be encouraged to make impactful games for learning or for change. These games will be designed as prototypes for games made to either lead towards impactful social change or towards learning new things or gaining deeper understanding of a topic.
48 hours is not enough time to make a complete game for impact with the necessary testing and assessment, but it is enough time to gain an understanding of what the challenges are for these kinds of games. This event can also be an excellent spring board for a larger project, start-up, or collaboration to extend the game further.
There will be staff in attendance during the jam to help participants understand the current state of games for learning and games for change.
When is the Global Game Jam held?
We open our doors on Friday, January 25th at 5pm and run until midnight that day. Our site is open Saturday, January 26th from 9am until midnight, and Sunday, January 27th from 9am until 5pm.
The Global Game Jam is a 3-day event, but our site closes at night so participants can go home and get rested for the next day. Participants should attend the entire duration of the event as your team will need to complete your game!
We will provide catered food during the event: breakfast & lunch on Saturday and Sunday, and dinner on Friday and Saturday. We will always have a vegetarian option but will be unable to accomodate vegan, gluten-free, or allergy-free meals. If you need special food, we will help you find it (there's lots of food options in our area).
This site will not have on-site security. All participants must be 18 years or older.
Participants are encouraged to bring their own laptop, especially if they already have licenses of any software they want to use such as Unity.
While we have room for 100 participants, we only have computers for about 40. These computers will have Adobe Creative Suite (including Flash Builder), MS Office, Visual Studio. These computers can support various development environments including Java, Python, Game Maker, Processing, Javascript/HTML5, and C#. Some of these computers will also have 3ds Max and Maya installed.
I've never made a game before!
Great! This is an excellent opportunity to make a game with people! Maybe you don't know how to program but can provide assets (art, sound, etc…) or you are an experienced game player and want to take a stab at testing or design. We want you here!
We'll also be making tabletop games (board, card, live action, etc…) so don't let not being able to program keep you from participating!
I make games all the time, why should I make a game here?
This is an excellent opportunity to expand your thinking in what games can do! We'll have two special constraints (games for learning and games for change) with experts in these fields to help guide you through making these kinds of games. You'll also meet new people and collaborate with people you've never worked with before.
What kind of skills should I bring?
Y'know, the usual: PROGRAMMING, ART, SOUND, GAME DESIGN! We'll be making both digital and non-digital games at this site.
When you buy a ticket, buy one which bests represents your abilities (you might have more than one, but this is the one that best describes what you're able to do). Choose other if none of these fit best.
So what's this about games for learning and games for change?
At the MIT Game Lab, we have been making games with purpose, that go beyond pure entertainment, since 2007. At this year's Global Game Jam, we would like to share this expertise with our jammers. This is the perfect chance to gain experience in making these kinds of games. If you've got experience making games with an entertainment focus, you can take on the added challenge of making a game that is both entertaining and serves an additional purpose, either to assist with learning (say STEM skills like math or physics or maybe philosophy or writing!) or to bring a social change impact (bringing attention to current events like the aftermath of Hurricane Sandy, marriage equality in the US, or any other social issue you feel strongly about).
To help with this, you'll have staff from the MIT Game Lab, Education Arcade, and Learning Games Network on hand to ask questions and to help guide you through the process of selecting your topic and applying game design principles to it. Games that follow these constraints will be submitted to Games for Change, a non-profit that focuses on these kinds of games, for a chance to be promoted during their 10th Annual Games for Change Festival. More details about this will come out in the weeks ahead!
These are optional constraints – we will still be a site where you can make whatever kind of game you like!
The Education Arcade explores games that promote learning through authentic and engaging play. TEA's research and development projects focus both on the learning that naturally occurs in popular commercial games, and on the design of games that more vigorously address the educational needs of players.
Learning Games Network is a non-profit organization dedicated to promoting the development of quality games for learning. With roots in the MIT Education Arcade, we have a long history of helping lead the field in the designing and creating strong games for engaging learning. Each year we host game jams and camps to help students, teachers and designers take their learning game design to the next level.
http://learninggamesnetwork.com
The MIT Game Lab is a game research and design group at the Massachusetts Institute of Technology in the Comparative Media Studies department.
Modern games have brought the power of play to many endeavors – from entertainment to education, art to activism, science to socialization, and more. At the MIT Game Lab, we explore the potential of play in all these realms, particularly as it is amplified by new technologies by bringing together scholars, creators, and technologists to teach, conduct research, and develop new approaches for applied game design and construction.
SPONSORS!
We are happy to have the following sponsors support the Global Game Jam at MIT!
Unity Technologies

"Unity is all about technology that's both uniquely usable and extremely powerful. Focusing on clear interplay of features and functionality – from your perspective. As a company we are all about building that technology, driving it forwards, and supporting it.
Unity is also about bringing together some of the best people in the world, and letting them loose on solving interesting and hard problems for our customers.
We aggressively reinvest in development to keep Unity moving and growing at a radical pace, expanding usability, power, and platform reach.
We do the hard work so you don't have to, and take the pain so you don't have to."
Mozilla Corporation
"Invent the next generation of open web games…We're excited to announce the launch of the Mozilla Game On competition! Game developers from around the world are invited to re-imagine the web as an open game platform and create some awesome new web based games across three main categories for the chance to win cool prizes including an all expense paid trip to GDC, the chance to have your game published by Chillingo and featured in Mozilla Marketplace, an Nvidia GeForce GTX 690, igda and ukie annual memberships, tons of Mozilla swag and so much more!"
Related Events