Friday Games: Black Hat Oculus
October 3, 2014 @ 4:00 pm

-

6:00 pm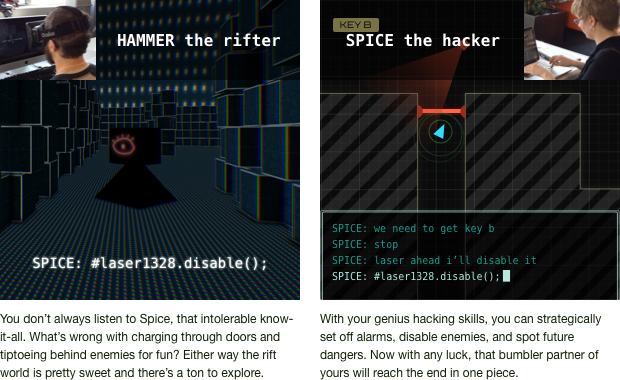 Come see and play an in-progress game developed by MIT Game Lab alumni, Team Future, for the Oculus Rift: Black Hat Oculus.
"Listen carefully to my directions. Look to your right. There are two agents behind that door and they will reach you in 5 seconds. They just heard you. RUN!"

Imagine that you are in the Matrix and the voice that's speaking isn't Morpheus but your best friend.

Black Hat Oculus is a 2-player cooperative stealth game. Play as Hammer in the oculus rift or on a computer. Sneak past agents, avoid traps, and discover secrets. Or play as Spice. Use your hacking skills to disable enemies, unlock doors, and more.
Black Hat Oculus began development as a game for our Global Game Jam site this past January. Since then, the team has continued development of the game, making more levels, new art and sound assets, and improving the underlying technology and code for the game.
Nick Garza, MIT S.B. '11, will talk to us about the work they've put into the game so far and what their plans are for future development. And like every other Friday Games, we'll have the game available for people to play!
If you can't make it to MIT, we'll be streaming live at our Twitch channel: http://twitch.tv/mitgamelab.
Related Events