Escape Room Game Jam
March 27, 2015 @ 7:00 pm

-

March 29, 2015 @ 6:00 pm

Free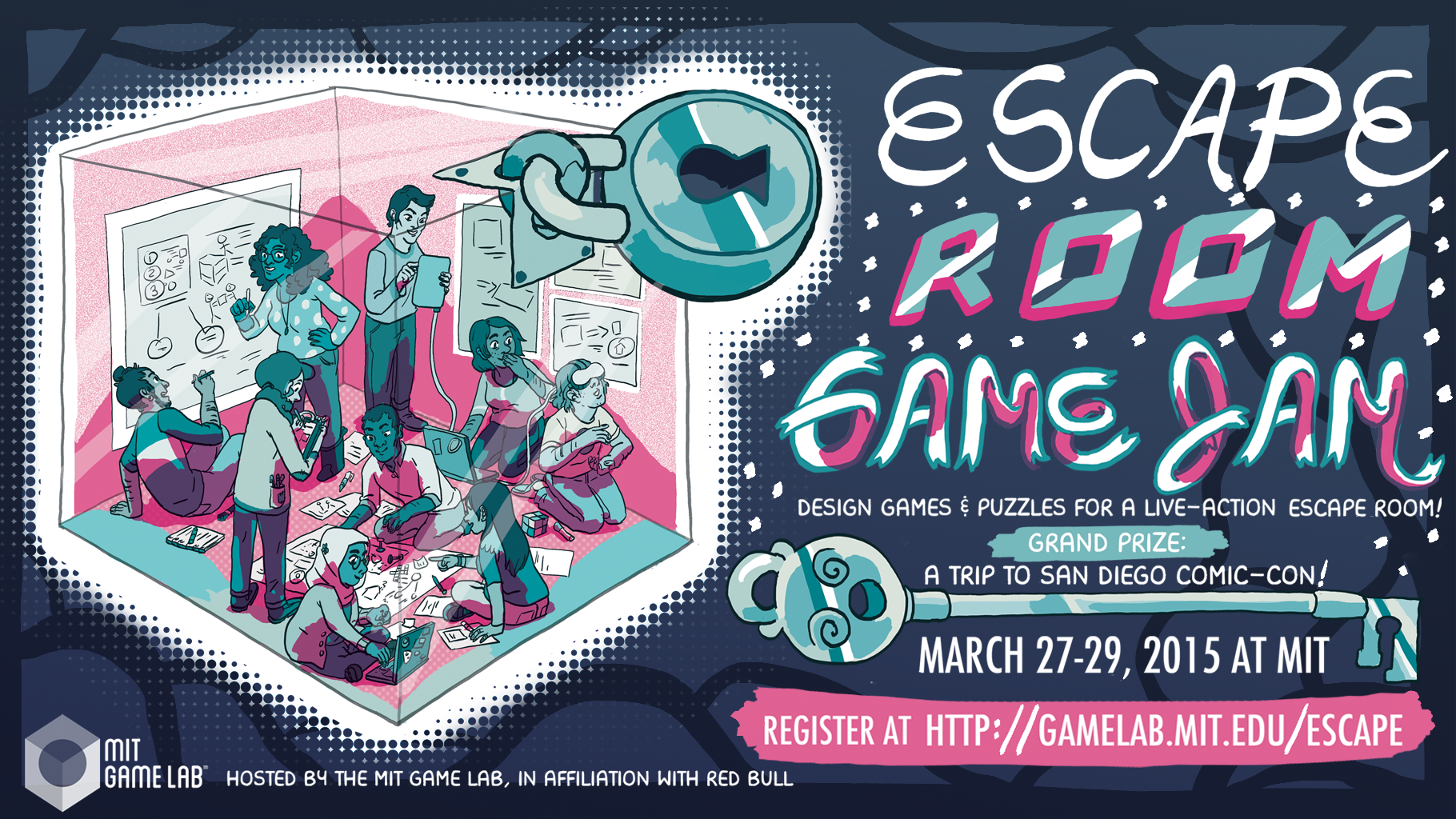 The MIT Game Lab, in affiliation with Red Bull, is holding our first ever Escape Room Game Jam!
In this 48-hour design challenge, participant teams will work to create puzzles and games to be played within a pop-up escape room. Teams will be formed by the end of the first day of the jam, but participants are allowed to pre-form teams before the Jam itself.
Our Theme for the Jam will be to create an escape room based around a moment in a upcoming film. This is a judged game jam – winning participants will be selected and will receive a trip to Comic-Con 2016 (tickets, flights, and hotel included).
More details will be added to this page and sent from our Twitter feed (@MITGameLab) as they become available.
FAQs
What is an Escape Room?

Real-life room escape games are a type of physical adventure game in which a group of people are "locked" in a room with other participants and have to use elements of the room to solve a series of puzzles, find clues, and escape the room within a set time limit. Some games include sub-plots, other are just puzzle oriented. Players must be observant and use their critical thinking skills to escape the room. Other inspirations include adventure board games and movies. For our Game Jam, we hope participants work within a mix of virtual and non-digital formats.
What is a Game Jam?

"Jam" is a reference to musician jam sessions, not traffic or spreadable fruit. The goal is to come together and make a video game or non-digital game like a board game or card game. Participants rapidly prototype game designs and hopefully inject new ideas to help grow the game industry. We share a common theme and constraints. We ask participants to create a game from beginning to end in a prescribed time (maximum of 48 hours). The brief time span is meant to help encourage creative thinking to result in small but innovative and experimental games. For this Jam, we're focusing on short, non-digital games and puzzles, but are open to using interesting technology like Arduino-like hardware or virtual reality.
Who should come?

We are hoping to get a mix of professional game developers, students, and folks with interests in game and puzzle design. Artists, hackers, hardware designers, UI/UX designers – the more diverse the skills, the more varied the types of puzzles and games we'll make!
But, I've never made a game or puzzle before!

That's, great! We want you here! Come and learn from peers and our facilitators. You'll join a team on-site to design puzzles and games around our theme. These designs can be as high- or as low-tech as the skills (and time-frame) allow!


Yourself!


A water bottle and/or coffee cup


Whatever you need to exercise your particular skills (a laptop, a camera, art supplies, a hardware hacking kit, …) – anything that can fit in a single backpack and carried on your person!


We'll provide prototyping supplies (cards, dice, tokens, paper, pens, …) and a few laptops with Photoshop.
Food!

We are providing food throughout the event – make sure you let us know your dietary restrictions when you register and we'll try to accommodate them!
This is 48 hours long?

Not quite – we actually open at around 10am on Saturday and close doors at midnight. But you can still work on your puzzles and project after hours from the comfort of your home.
Friday, March 27th

Location: 32-141 (Stata Center)


7pm – 9pm: Film Screening (must be a registered participant to attend!)


Saturday, March 28th

Location: E25-111 (Whitaker College building)


9am – 10am: Doors Open; Registration


10am – 10:30am: Introduction to the Event


10:30am – 11am: Keynote: Scott Nicholson

11am – noon: Open Brainstorm sessions: THEME


11:45am – 12:30pm: Lunch


12:30pm – 1:30pm: Design Talks, part 1


1:30pm – 2:30pm: Open Brainstorm sessions: CONSTRAINTS


2:30pm – 3:30pm: Design Talks, part 2


3:30pm – 4:30pm: Open Brainstorm sessions: FEASIBILITY


5pm – 6pm: Dinner


6pm – 8pm: Pitches and Team Formation


8pm – midnight: Open Design (in Teams)


Sunday, March 29th

Location: 32-124 & 32-144 (Stata Center)


9am: Doors Open


9am – 4pm: Open Design (in Teams)


noon – 3pm: Jury review (in Teams)


Location: 32-155 (Stata Center)


4pm – 6pm: Presentation and Judging




All participants must be 18 or older to attend.


All designs created during this event will be licensed CC-BY, allowing freedom to share or adapt the design for any purpose.


This event will be filmed.


The MIT Game Lab is a safe space

The MIT Game Lab is dedicated to providing a harassment-free experience for everyone, regardless of race, color, sex, disability, religion, national origin, sexual orientation, gender identity, veteran's status, age, physical appearance, or body size.
We do not tolerate harassment of event participants in any form. Participants asked to stop any harassing behavior are expected to comply immediately. Event participants violating these rules may be sanctioned or expelled from the event without a refund at the discretion of the event organizers.
The full anti-harassment policy can be found at http://gamelab.mit.edu/harassment-policy/.
Speakers
Dr. Scott Nicholson is an Associate Professor at Syracuse University's School of Information Studies and the Director of the Because Play Matters game lab and the Game Designers' Guild of Syracuse. He was a visiting professor in 2011-2012 at MIT in Comparative Media Studies and the Singapore-MIT GAMBIT Game Lab. He focuses on the development of transformative games and play for informal learning and training. Dr. Nicholson is a published recreational board game designer, was the host of Board Games with Scott, and wrote the book Everyone Plays at the Library.
More about Dr. Nicholson's work can be found at Because Play Matters.

Clara Fernández-Vara is an Associate Arts Professor at the NYU Game Center. She is a game scholar, designer and writer. Her work focuses on narrative in games and how to integrate story and gameplay; her current research focuses on the design of detective games and its relation to other media. Her first book, Introduction to Game Analysis, was published by Routledge last year. She has worked on experimental narrative games such as Rosemary (2009) and Symon (2010), as well as the commercial game Transcendence: Origins (2014) for Warner Bros.
Matthew Weise is a game designer and writer. Currently an independent developer, his work ranges from experimental games in academia to AAA. He worked at Harmonix Music Systems as narrative designer on Fantasia: Music Evolved; more recently has freelanced as co-producer/designer on Transcendence: Origins for The Alchemists / Warner Bros. Before that, he was Game Design Director of Singapore-MIT's GAMBIT Game Lab. His experimental art game, The Snowfield, received a nomination for the 2012 Independent Games Festival. He is currently working on an unannounced independent narrative game project.
Ariel Segall has been writing and running live-action roleplaying games since 2000, ranging from simple fifteen-person four-hour games to sixty-person ten-day-long extravaganzas. She has taught multiple daylong classes in GMing skills for the MIT Asssassins' Guild, her LARP organization. When not writing LARPs, she works in computer security, makes chocolate, and collects crafting hobbies.
*Poster design illustrated by Carey Pietsch
Related Events