Playing in Extreme Environments: What space health research can teach us about adapting to life during pandemic
September 8, 2020 @ 12:00 pm

-

1:00 pm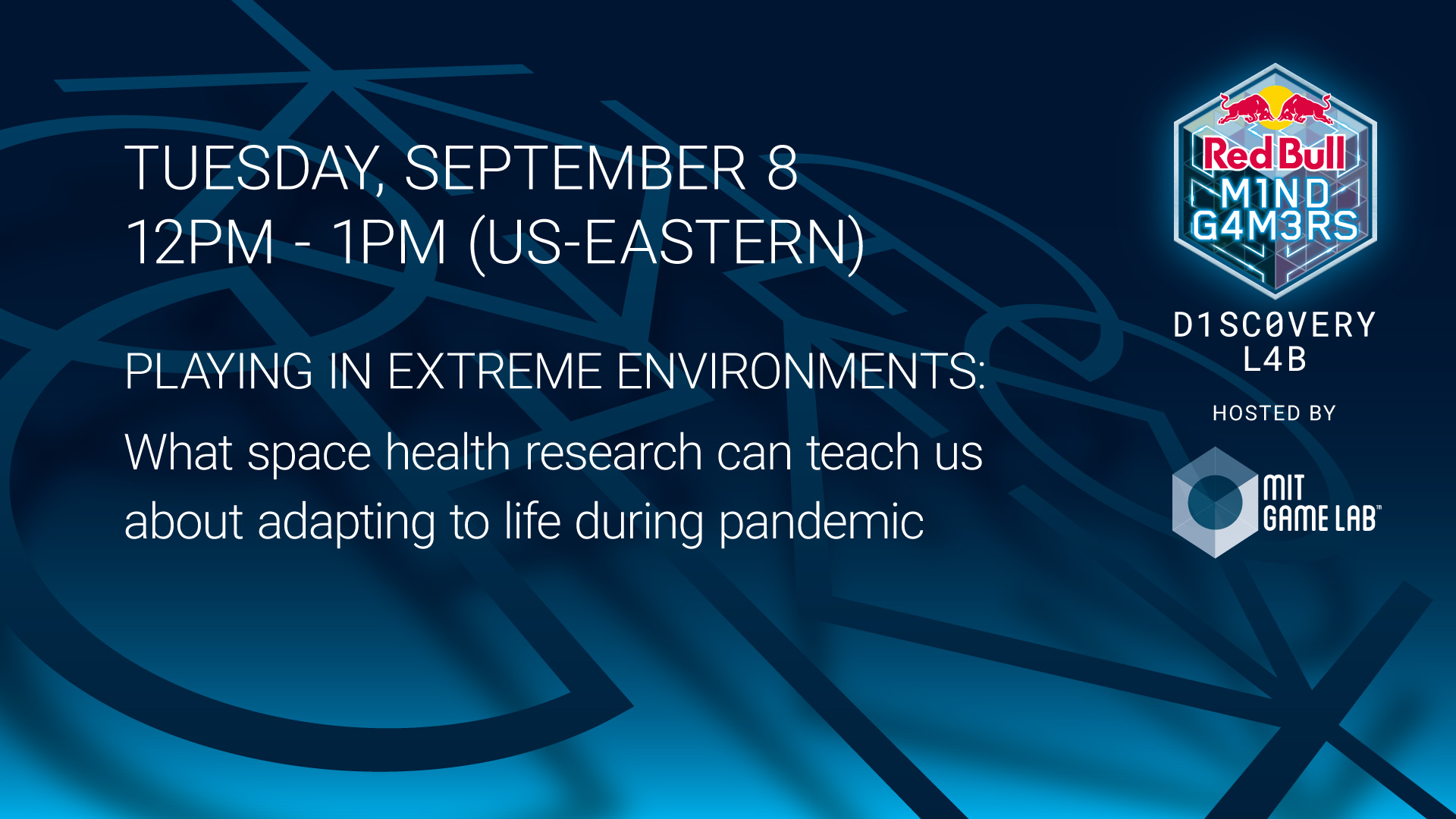 Sponsored by Red Bull Mind Gamers
For the past few months, our lives have been upended by the pandemic: we've had to either close ourselves off in our homes or work in unsafe environments, putting ourselves or our loved ones at risk of contracting a disease we're only starting to understand. We have been living and working under extreme circumstances surrounded by anxiety, risk, isolation, and fear. We can't just live through this pandemic, we need to thrive. One way to maintain our health is to find space and time for play, and not just as a leisure activity, but in our working lives as well.
Panelists will discuss their work in designing and studying living spaces for astronauts and we'll connect this to the stressors affecting our current living situation. Astronauts also face the challenge of living and working in extreme environments. Surrounded by danger, extreme heat or cold, poisonous gases, or a lack of oxygen, they live in small living quarters, closed off from the outside world and with only tenuous connections back to their loved ones at home. But throughout all of this, not only do they find opportunities to play, they make it an important factor in their lives.
Panelists:
Dorit Donoviel, Ph.D., Director for the Translational Research Institute for Space Health (TRISH), leads a NASA-funded innovation research and development program that enables new health technologies to predict, protect and preserve astronaut health during deep space exploration missions. In her previous role as Deputy Chief Scientist of the National Space Biomedical Research Institute (NSBRI), Dr. Donoviel led both domestic and international research programs that bridged academic, industry, and government resources to deliver fast and cost-effective tangible results. She is the recipient of multiple honors including recognition from the NASA Human Research Program and the NSBRI Pioneer Award. Dr. Donoviel is Associate Professor in the Department of Pharmacology and Chemical Biology and the Center for Space Medicine at Baylor College of Medicine (BCM). Before joining BCM, she led metabolism drug discovery programs at Lexicon Pharmaceuticals for eight years. Dr. Donoviel completed a Human Frontiers postdoctoral fellowship at Mount Sinai Hospital in Toronto, Canada; holds a Biochemistry doctorate from the University of Washington in Seattle, WA; and received her baccalaureate degree in Biochemistry and Cell Biology from the University of California, San Diego in La Jolla, CA.
Ariel Ekblaw is the founder and lead of the MIT Media Lab's Space Exploration Initiative, a team of over 50 graduate students, faculty, and staff actively prototyping our sci-fi space future. For the Initiative, Ariel coordinates space research and launch opportunities across the spectrum of science, engineering, art, and design, and builds collaborations on this work with MIT and Space Industry partners. Ariel is simultaneously a graduate research assistant at the MIT Media Lab, where she is completing a PhD in aerospace structures in Dr. Joseph Paradiso's Responsive Environments group. Her current research includes designing, testing, and deploying self-assembling space architecture for future space tourist habitats and space stations in orbit around the Earth and Mars. Ariel brings an interdisciplinary approach to her research at the Media Lab, with undergraduate degrees in physics, mathematics, and philosophy from Yale University and a master's in blockchain research from MIT. Her past work experience includes blockchain product development, cloud computing analytics at Microsoft Azure, big data programming at the CERN Particle Physics Laboratory, microgravity flight research with NASA, and Mars2020 rover hardware systems engineering at NASA's Jet Propulsion Laboratory. Ariel's work has been featured in AIAA, IEEE, WIRED, the BBC, Ars Technica, Ars Electronica, MIT Technology Review, Harvard Business Review, the Wall Street Journal, PRI's ScienceFriday, and more.
Moderator:
Scot Osterweil is the Creative Director of the MIT Game Lab and The Education Arcade in MIT's Comparative Media Studies/Writing department. As a game designer he has worked in both academic and commercial environments, and his work focuses on the authentically playful aspects of challenging academic subjects. He has designed games for computers, handheld devices, and multiplayer online environments. He is the co-creator of the acclaimed Zoombinis series of math and logic games and has lead a number of projects in The Education Arcade, including the MIT/Smithsonian-curated game, Vanished (environmental science); Lure of the Labyrinth (math); Kids Survey Network (data and statistics); Caduceus (medical science); iCue (history and civics); and the Hewlett Foundation's Open Language Learning Initiative (ESL). He is a founding member of the Learning Games Network, where among other projects he created Quandary (ethics), the 2013 Games 4 Change Festival game of the year.
Related Events