Explore the Minecraft Institvte of Technology with our Creating Videogames class!
April 29, 2020 @ 2:00 pm

-

2:45 pm
We're opening our Creating Videogames class for a day on Twitch! As part of our unit on spectation, streaming, and moderation, join research scientist Philip Tan explore the new Minecraft Institvte of Technology at http://twitch.tv/MITGameLab on Wednesday, April 29th, from 2-2:45pm EDT!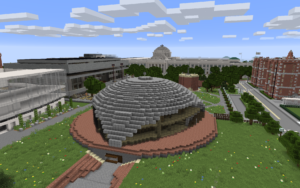 Philip will be joined by some of the students and MIT community members responsible for building out our virtual MIT in Minecraft, showcasing some of the great work that's been done in the past month or so.
This year our final projects for class are all built around a common design constraint: each team needs to consider how the game would be used within a streaming context on Twitch, Mixer, or some other type of live-streaming service. For this session, we will be practicing some of the things we learned about best practices for moderating (white paper by AnyKey) but also exploring the many ways games are streamed online.
Related Events