Creating Culture in Virtual Worlds
March 27, 2014 @ 6:00 pm

-

7:30 pm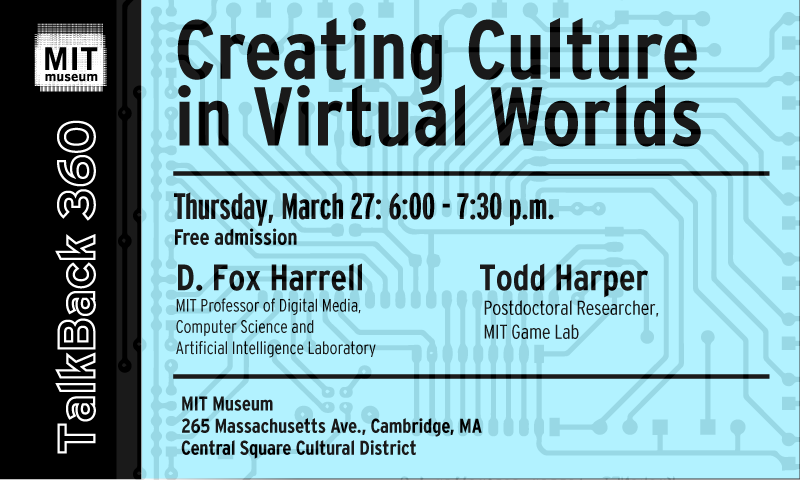 Part of the MIT Museum Talk Back 360 programs:
Join a conversation with MIT Professor D. Fox Harrell and MIT Researcher Todd Harper as they discuss the ways in which cultural values are both created and represented in digital media. Explore how online communities and computer code both give rise to shared values – through the interactions between people online, as well as the underlying computational structure of video games, websites, and other online communities.
D. Fox Harrell, Ph.D., is Associate Professor of Digital Media in the Comparative Media Studies Program and Computer Science and Artificial Intelligence Laboratory at MIT. His research explores the relationship between imaginative cognition and computation. His research involves developing new forms of computational narrative, gaming, social media, and related digital media based in computer science, cognitive science, and digital media arts. The National Science Foundation has recognized Harrell with an NSF CAREER Award for his project "Computing for Advanced Identity Representation." Harrell holds a Ph.D. in Computer Science and Cognitive Science from the University of California, San Diego. His other degrees include a Master's degree in Interactive Telecommunication from New York University, and a B.F.A. in Art, B.S. in Logic and Computation (each with highest honors), and minor in Computer Science at Carnegie Mellon University. He has worked as an interactive television producer and as a game designer. His book Phantasmal Media: An Approach to Imagination, Computation, and Expression was published by the MIT Press (2013).
Todd Harper is a researcher at the MIT Game Lab with a background in media studies, cultural studies, and mass communications. Primarily a qualitative ethnographer, he is broadly interested in games as communication and culture, and more specifically on communities of practice, e-sports, and identity representation in games and game culture. To date he's conducted research on topics ranging from the competitive fighting game community, to same-sex romance options in role-playing games, to the actions of players participating in online community moderation in League of Legends. He was a motivating force behind the first MIT "Gayme Jam" (later QUILTBAG Jam) and the researcher and product owner behind the critically acclaimed A Closed World. His first book, The Culture of Digital Fighting Games: Performance and Practice, was published in December 2013 by Routledge.
Related Events