Cardboard Jam 2014
May 3, 2014 @ 10:00 am

-

May 4, 2014 @ 10:00 pm

Free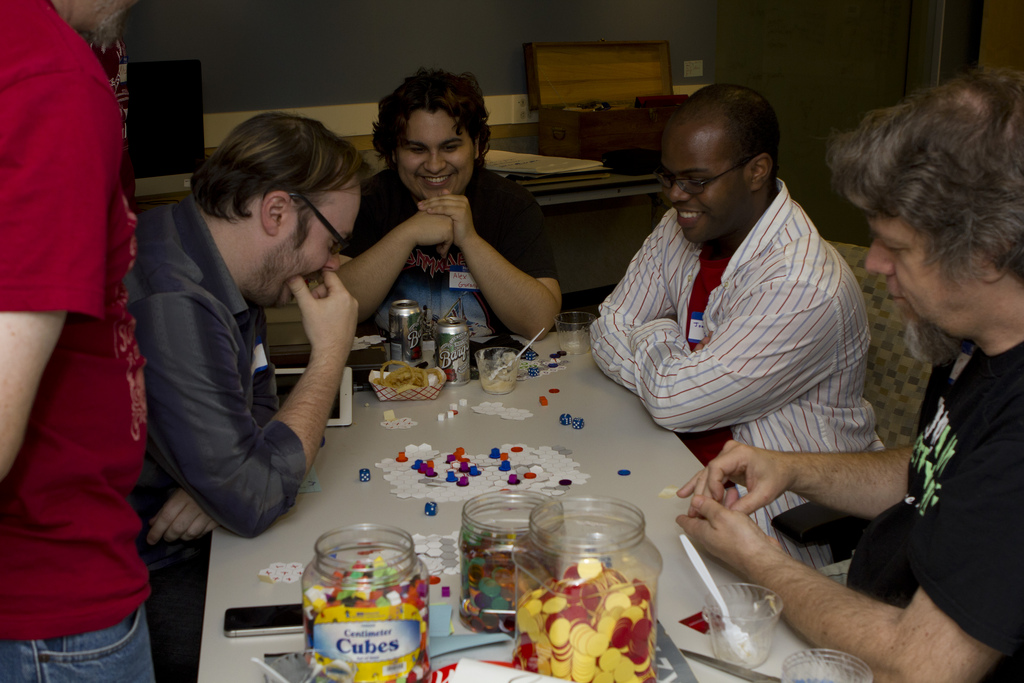 Join us the weekend of May 3 & 4 for Cardboard Jam! Over these two days, participants will form teams to make non-digital games using simple materials: paper, pencil, cards, and board.
This weekend is a practice session to exercise your creativity in game design and your skills in iteration and play testing. It is designed to be beneficial to both novice and experienced game designers. No prior experience is necessary!
We will begin the weekend with an introduction to the Jam and a few short talks about game development. We'll also play a few games to help participants get to know each other. Facilitators will lead the participants through brainstorming and team forming sessions – the goal being for participants to form teams at the Jam site, not before, to make games.
I've never made a game before!
Great! This Jam is definitely for you! We'll have a mix of folks with various levels of experience in game design. We'll also have facilitators on site running the Jam to help guide you through the processes of game development.
I make games all the time, why should I make a game here?
This is an excellent opportunity to make games with people you've never met before, to make a game other than what you normally make, and to just have fun! If you've never done a game jam, you should give it a go: they are awesome experiences to meet new people and flex your creative muscle.
What kind of games will we make?
Anything that can be played by 1 or more people and doesn't require a computer! This could be games of chance or skill. Party games or strategy games. Storytelling or abstract games. Games played with cards, on a board, or with nothing more than people, a few rules, and imagination!
Who can participate?
Registration is open for individuals 18 years or older. See the notes about restrictions if you are under 18.
When is the Jam?
Doors open at 10am on Saturday & Sunday and close at 10pm each night.
Food
We will be providing regular coffee breaks throughout the weekend. We will not be providing lunch or dinner on either night, but there are a number of local eateries open in the area.
What should I bring?
The MIT Game Lab will be providing all materials needed to develop non-digital games (paper, pencils, pens, markers, counters, …). Laptops are not required but recommended if you intend on doing layout of materials during the Jam. We will not have a printer on site, but there will be one in the Game Lab nearby available for participants to use.
Restrictions
While we do have an 18 or older restriction, we would love to see families participate: children 16 or older can register so long as a parent or guardian also participates in the Jam (the parent/guardian should purchase a ticket for themselves as well as each child).
There is no security on site and the Jam site closes over night, re-opening the next morning.
The MIT Game Lab is a safe space
The MIT Game Lab is dedicated to providing a harassment-free experience for everyone, regardless of race, color, sex, disability, religion, national origin, sexual orientation, gender identity, veteran's status, age, physical appearance, or body size.
We do not tolerate harassment of event participants in any form. Participants asked to stop any harassing behavior are expected to comply immediately. Event participants violating these rules may be sanctioned or expelled from the event without a refund at the discretion of the event organizers.
The full anti-harassment policy can be found at http://gamelab.mit.edu/harassment-policy/.
Related Events